Weddings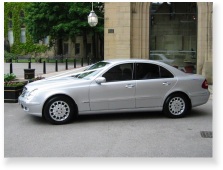 You've probably already spent hours planning your wedding and putting all your wedding ideas together, now let us take away your transport worries. Arrive at your venue in the ultimate style and comfort in one of our immaculate silver Mercedes.
Traditionally dressed with flowers and ribbons, our Mercedes saloons will help you to make a stunning entrance on your big day. Decoration can be as elaborate or as simple as you wish and co-ordinated with your own colour scheme or theme.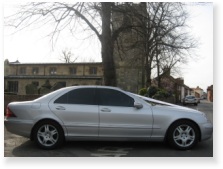 Complimentary champagne or non-alcoholic fizz if you prefer, is served to the bride & groom to celebrate their very first journey together as a married couple. Our drivers compliment our vehicles and are smartly presented, experienced and professional.
We take the utmost care with all of the arrangements to ensure that you get the 1st class service that you would expect from a professional chauffeur company. We are happy to accommodate any reasonable requests and no detail is too small. We are happy for the vehicles to be used in photographs. Our drivers are experienced in liaising with photographers to help you get the very best photographs possible.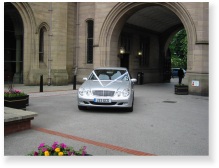 Our wedding packages prove very popular and discounts are offered for multiple vehicle bookings. With our immaculate fleet of Mercedes saloons & MPV's we cannot only offer you an elegant and stylish bridal car, but also further chauffeur driven vehicles for the bridesmaids, mother of the bride, groom and ushers, etc. These vehicles are also silver and when coordinated with the bridal car make an impressive sight when travelling and arriving together. They can be dressed with ribbon and flowers to either match or coordinate with the bridal car. We also work closely with a company providing minibuses which are ideal for transferring your guests.
To discuss your requirements and to receive a personal quotation, please contact our office.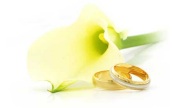 We wish you well with your wedding plans and hope that we can be a part of your special and memorable day.